Advanced Searching Across Bankruptcy Cases
Bankruptcy Case Search and Monitoring
Bankruptcy Case Search
Case Monitoring
Advanced Search
Custom Alerts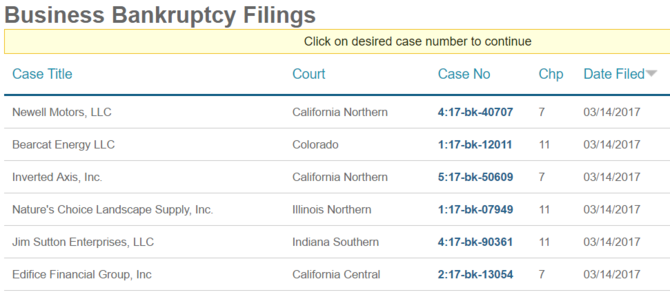 Bankruptcy Case Search
Full Acceses to All Bankruptcy Courts
Instant access to all federal records on PACER. Find any case nationwide and access complete dockets, claims registers and more. Having everything you need in one place causes everyone to adopt a platform quickly and easily.
Significantly Reduce PACER Cost
Your cases along with the millions of records in our repository are free to monthly subscribers. If you ever need something else from PACER, once it is retreived from PACER at the pass through cost, we instantly store it so your company never pays PACER twice for the same thing like you do now.
Advanced Tools to Streamline Tasks
Use our advanced toolkit to perform tasks like combining PDFs, downloading ZIP files and previewing pleadings. You can also download spreadsheets for a list of attorneys or parties on a case.
Our tools simplify monitoring and tracking new court filings. Get autommatic updates and email alerts. Never miss important filings.
Case Monitoring
Efficient Case Monitoring
Manage Bankruptcy Cases
Automated Reporting
Customize Your Preferences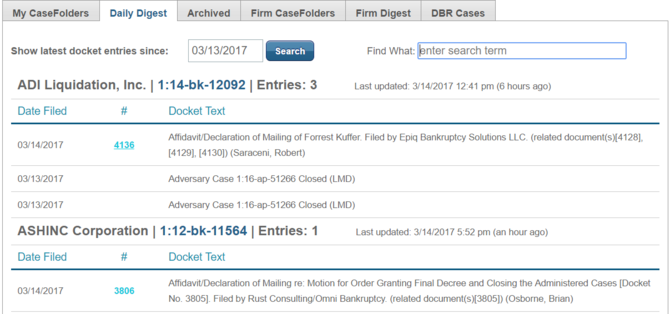 Efficient Case Monitoring
Whether you are monitoring 5 cases or 1,000 cases, we help deliver critical information. Bookmarking cases is a snap.
Manage Bankruptcy Cases Nationwide
By creating automatated docket alerts, all your cases of interest are current. This helps you monitor cases of interest with email alerts or a daily digest of new docket entries across all your cases.
Receive a daily email of your case activity in one email. Eliminate manually searching through each case.
Customize Your Preferences
Create custom alerts based on keywords for your own cases or across the country to monitor court dockets.
Search Across Bankruptcy Cases
Search through our extensive database across all cases and events
Include full text searching of all PDF documents in our database
Use boolean operators and filters to quickly find what you need
Set criteria & receive email alerts when new entries match your search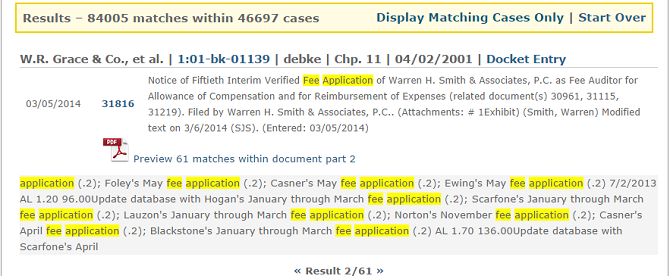 Don't re-invent the wheel, or waste time calling colleagues to see if someone has filed pleadings for your particular issue. A quick search will yield dozens of useful samples to help you quickly draft what you need.
Identify creditors' active cases, pro se cases, and more. Filter down to specific jurisdictions or types of cases, with addresses and contact information included in creditor lists, proof of claims, etc.
Locate specific issue cases such as student loan discharge adversary proceedings, and examine the entire docket to learn from successful litigation cases. Narrow results by Judge and review orders granted or denied.
Conduct searches, refine your lists, and once you're satisfied with the results, set alerts with one click. New results matching your criteria in our database can be checked and emailed every hour, day or week.
Custom Alerts
Alerts Across Cases
Alerts on Single Case
Alerts for New Filings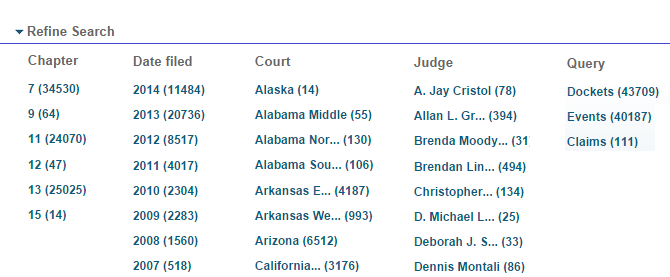 Track the latest events in cases your firm has bookmarked. Never miss important filings ever again.
If you wanted to track any particular cases closely, you can also create keyword alerts for a particular case.
We track new business filings across the country. Read the latest petitions to stay on top of the market.
Completely customize your daily emails to match exactly your search criteria such as jurisdiction, type of filing, etc.
Start Searching Now With As-Needed Access
Unlimited
Always On.
Always Ready.
Search Whenever Whereever
- Unlimited searching
- Set global alerts to track events

Subscription auto-renews monthly until canceled. Cancel anytime by clicking "Cancel" in your account settings or email us at
[email protected]
Day Pass
Use Any Time.
Activate When Ready.
Meet Occasional Search Needs
- Unlimited searching for 24hrs
- Use when needed

No subscription required.
Buy Day Pass
Limited Plan
Limited Needs?
Get Started.
Best for Individuals
- Access PACER interface
- Bookmark and track cases
- Subscription cancellable anytime

Subscription auto-renews monthly until canceled. Cancel anytime by clicking "Cancel" in your account settings or email us at
[email protected]
Main Toolsets

Number of Users

Type of Plan

PACER Interface

Advanced Search

OCR Searching

Docket Alerts

Daily Digest

Case Activity

Additional Features

PACER 1-Click Access

PDFs in Inventory

Cloud Storage & Organization

Training

Support
$199
Up to 10 people
Monthy
Free
Email or Phone
$49
One person
24 hours
-
-
-
Paid
-
Email
$29
One person
Monthly
-
-
-
-
-
Free
-
Standard
Frequently Asked Questions
What's a day pass?
A day pass let's you use our Premium Search for a continuous 24-hour period. During your 24-hours, you can run as many searches as you want. There is no per search charge.
How does a day pass work?
You start your 24-hour period whenever you want by clicking on the green "use day pass" button show below. At the end of the 24-hours, your access will terminate.

Can I set alerts while using a day pass?
No. Because your access will expire in 24-hours, you will not be able to make use of global alerts.
Are there per-search charges?
No. Whether you use a day pass or a monthly plan, access granted includes unlimited searching.
Are there any other charges to access court records?
Yes, you will be responsible for any pass through costs to the courts. If we have your desired document in our inventory, it will be free to our subscribers. Otherwise you will have to purchase Case Credits or input your PACER credentials.
What are Case Credits, and why do I need to buy any?
Case Credits are used to purchase case documents and information. While Inforuptcy searches are free, PACER costs are passed through, so you will need to purchase a minimum of $5.00 worth of Case Credits for 1-click access to PACER. Purchase and use of Case Credits are subject to our Payment and Billing Terms.
What is PACER?
PACER (acronym for Public Access to Court Electronic Records) is an electronic public access service for United States federal court documents. It allows users to obtain case and docket information from the United States district courts, United States courts of appeals, and United States bankruptcy courts. See http://en.wikipedia.org/wiki/PACER_(law)
What does PACER charge to access court records?
The Judicial Conference of the United States authorized the electronic public access fee for $.10 per page to recover the costs for maintaining and enhancing the electronic public access system. The entire fee schedule can be viewed here:http://www.pacer.gov/documents/epa_feesched.pdf
Can I use my PACER account on Inforuptcy?
Yes. We offer our users the convenience of choice. If you already have a PACER account, you can enter your credentials in your user profile (securely stored) to start searching bankruptcy records. Per PACER, if you do not spend more than $15 per quarter, you will not be charged a fee from them.
Where can I get a PACER account?
You can register for a free PACER account here: https://www.pacer.gov/psco/cgi-bin/regform.pl. After you fill out the form and have your PACER credentials, you can save them in your user profile in Inforuptcy to start searching bankruptcy records.