Investor Pricing and Plans
Investors - We Put Bankruptcy Information at Your Fingertips
We comb through all the courts to find asset sales so you do not have to
Search the most comprehensive database of bankruptcy assets
Use our sophisticated tools to automatically track cases of interest
Receive daily email alerts of stalking horse opportunities
Search Through The Most Comprehensive Sale Motion Database

We comb through nearly all the bankruptcy filings across the country, identify any assets for sale, create a "cheat-sheet" of the most relevant information, and make it fully searchable in our database. You can then simply contact the seller or dig further into each case as desired.

Once you have identified a case of interest, you can set up docket alerts to automatically track the court's docket so you are always aware of amendments to the sale motion, new hearing dates, or objections to the sale. Set email preferences to filter alerts received.

Create custom alerts of assets of interest such as going concerns, financial assets, commercial property, residential property, etc. to stay aware of the latest asset filings.

Typically after the sale motion has been filed a stalking horse bidder has been identified. They have completed their due diligence. As an overbidder, you can come in and swoop up the asset away from the stalking horse bidder by offering a little more.
The Most Comprehensive Business Bankruptcy Database
Receive a daily email of all the newly filed business bankruptcy cases
Receive a daily email of all the newly filed schedules in business bankruptcy cases
Customize your emails based on your assets of interest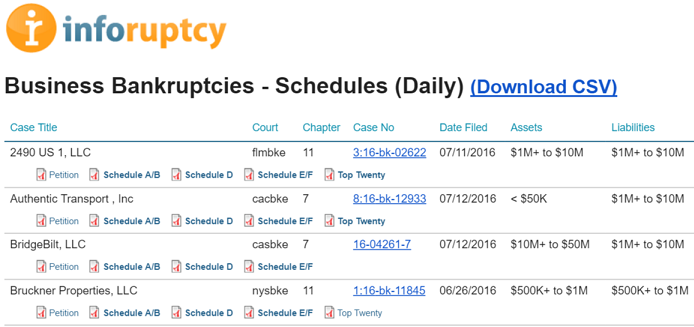 We track and purchase every business petition filed every day and across the country. We track the size of the assets and liabilities reported on the petitions and email you all the information.

Not only do we track all the business bankruptcy petitions, but we are also the only service to track every business bankrutpcy case until the initial schedule of assets and creditors is filed in each case. These business schedules are the earliest indication of the assets that could be possibly purchased.

We are digitizing the summary of assets from Schedule A/B. This will allow prospective investors additional time saving tools to dig through the court filings and pinpoint assets of interest.

Completely customize your daily emails to match exactly your search criteria such as size and type of asset, jurisdiction, etc.
Search Across Bankruptcy Cases And Create Custom Alerts
Search through our extensive database across all cases and events
Includes full text searching of all PDF documents in our database
Use boolean operators and filters to quickly find what you need
Set criteria & receive email alerts when new entries match your search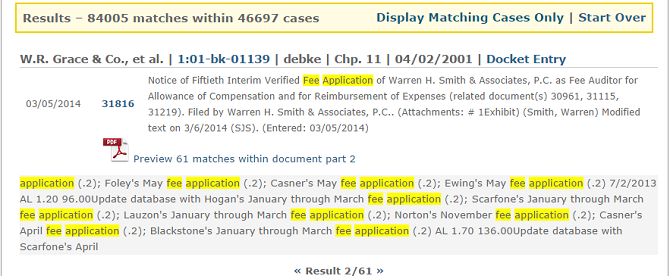 Are you looking for sample auctioneer employment applications? We have you covered. Looking for new confirmation plans? We have you covered.

Identify assets in personal bankruptcy cases by searching for notice of assets or deadline to file proof of claim after the 341(a) meeting.

Find how judges have ruled on stalking horse bid protections or DIP financings.

Conduct searches, refine your lists, and once you're satisfied with the results, set alerts with one click. New results matching your criteria in our database can be checked and emailed every hour, day or week.
Choose Among a Daily, Monthly or Annual Plan to Signup
Day Pass
Month-to-Month
Annual (17% Savings)
Main Toolsets

Number of Users

Business Voluntary Petitions

Assets & Liabilities Data

NAICS Industry Code

Unlimited Saved Cases

Unlimited Saved Searches

Export Case Data

Assets Database

Sale Motions

Docket Alerts

Advanced Search

OCR Searching

Asset Schedules

Creditor Schedules

Schedule A/B Assets Alerts

Autopilot Case Monitoring

Additional Features

PACER 1-Click Access

PDFs in Inventory

Cloud Storage & Organization

Training

Support
Starter
Individual (1 person)
-
-
-
-
-
-
-
-
-
Free
$49 / session
Email
Maverick
Firm (up to 5 people)
-
-
-
-
-
-
Free
One free session
Email or Phone
Rain Maker
Firm (up to 5 people)
-
-
-
-
Free
Priority
Game Changer
Firm (up to 10 people)
Free
Priority
Typical timeline for a chapter 7 bankruptcy case illustrates some of the differences among the plans
Maverick plan best for overbidders
Game Changer plan best for stalking horse bidders and auctioneers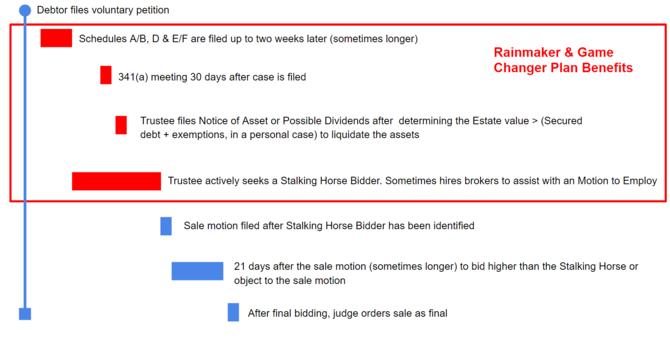 Not sure if you're ready to start investing in bankruptcy asset sales? Dip your toes with our
free newsletter.
Frequently Asked Questions
Do you offer a free trial?
No. In lieu of a free trial, you can browse our
expired listings
to give you a sense of our paid service. We also offer a day pass for each of our plans if you would rather explore yourself versus scheduling a demo. Just click on the "Day Pass" right above the pricing cards. If you sign up to a "Day Pass" and decide you would like to sign up to a Monthly plan within two days of your day pass expiring, we'll credit your "Day Pass" purchase to the monthly total. For example, if you purchased the Maverick "Day Pass" for $39 and then decided that you would like to upgrade to the monthly plan for $99, we'll apply the $39 purchase towards the $99 purchase for a net of only $60 additional dollars.
Where can I start learning about bankruptcy asset sales?
The best way to start learning something is by doing. Of course some preliminary reading can really help. Here are some helpful articles to get you started:
For a quick overview: Bankruptcy Asset Sales Overview

For more in-depth analysis: When the 363 Sale is the Best Route

For analysis of bidding strategies: Alternative Bidding Strategies
Ultimately though, you will need to talk to sellers and see for yourself how different each deal can be. Using our Bankruptcy Assets Database, you can quickly pick deals of interest, read about each sale, talk to sellers and even listen in on an auction or two. By preparing yourself with "practice" deals, you'll be able to better take definitive action when you spot that "sweet" deal you've been waiting for.
Why bankruptcy asset sales?
Bankruptcy assets provide an opportunity for profit or to acquire otherwise unique or hard to find assets. Whether you're looking to "turn around" a troubled company, or acquire some unique art, all sorts of assets get sold through the bankruptcy courts.

Of course, any great deal requires some work. Not every asset in bankruptcy will provide a profit opportunity. Often sellers in bankruptcy have marketed the assets fairly well. However, sometimes, that is not the case. Sometimes there will be emergency motion in court because a compelling business reason does not allow sufficient time to properly market an asset. It usually comes down to a matter of timing. What does that mean for you? It means you need to be patient and follow a system of looking through listings we provide. Like most investing, being methodical will usually yield to more favorable results.
What's in your sale motions database?
Almost all sale motions or notices filed in bankruptcy courts across by trustees or other authorized sellers, such as a debtor in possession (we typically exclude sales where debtors are buying back their personal property). The sales motions or notices filed with the courts contain various stages of sales such as: buyers have been found but overbids are sought, an auctioneer is hired to conduct an auction, or the seller is seeking stalking horse bidders. To learn more about these various stages, read the articles listed above, or read the FAQ below entitled "What if the Trustee has already found a buyer - what can I do?"
How many deals of a particular type do you have in a year?
In general, throughout any given year, thousands of assets get sold through the bankruptcy courts. On a monthly basis, there are hundreds of new assets, but most assets are for sale only for 30-90 days. As a result, at any given point in time, we provide a set of listings totaling about 500-700, but this inventory is constantly changing.

If you want to specifically know about a particular asset type, you can browse our expired listings to see what's been listed previously.
Can I access specific case information like pleadings, schedules, etc.?
Yes. Our fully integrated solution allows 1-click access from the listing page to the bankruptcy case docket and menu, so you can access ALL case information for any bankruptcy case. Also, each listing page provides the sale motion as a free download.
How can I know about or track a case to see if it will have an asset for sale?
In addition to the toolsets identified above, we provide other features that allow you to see every chapter 11 case filed across the country, and to track any case of interest automatically alerting you when an event matches any keyword you're interested in. These features are called Chapter 11 Bulletin (daily or weekly email of all Chapter 11 cases) and Docket Alerts. Please review the "Full Feature List" above to see which plan provides access to these tools.
How do I find out what liens are on a piece of real property?
Most of the listings provided on our site will be the result of some negotiation or diligence done by the trustee or a stalking horse bidder. There may be documents as part of the bankruptcy record disclosing any liens on the property. This is especially true if the sale is conducted pursuant to 363(f), which is the Bankruptcy Code section governing sales that will be "free and clear" of liens. Once you are subscribed to our service, you can access the entire court record for that case and conduct your due diligence by clicking on the "see more documents" link found underneath the attached sale motion. If you cannot find what you're looking for in the court record, you can always contact the seller.
What if the Trustee has already found a buyer - what can I do?
Pay attention to the objection period and sale dates. Much of the deals noticed for sale in the bankruptcy court will be the result of an existing agreement between the seller and a potential buyer. However, the Trustee wants to get as much as he/she can for the bankruptcy estate and will typically welcome better offers so long as it's within the time-line of the bankruptcy process. No sale is final until the court enters an order approving the sale, but there is usually a time period after which a better offer may not be accepted. This is typically after the objection period expires (but NOT always). Prior to that time, you can review the relevant terms of the contract between the seller and buyer, and provide a higher or better offer on the property if desired.

If the property had not been effectively marketed prior to the sale motion, or the bankruptcy caused most potential buyers to "drop out," it is quite possible there is significant room to make a higher or better offer while still remaining below open market value (in other words, the market value of the property assuming no bankruptcy was filed).
How can I be the stalking horse bidder?
The best way to be the stalking horse bidder is to be one of the first prospective buyers. You can do so by following the case sooner. We provide the tools to identify and follow cases with assets early on in a case. For example, when a trustee applies to the bankruptcy court to hire a real estate agent, the property in question has not yet been marketed to its fullest. At this stage, our Assets list will not have a listing. However, our robust Premium Search tool can identify cases such as this, thus allowing you to contact the Trustee and make an offer well before the Trustee applies to the court to approve the sale.
Is this available in my city?
Yes, it's available in every jurisdiction in the United States. To find which jurisdiction corresponds with your desired city, simply click on this link:
Court Locator
When will I get the leads?
You can create email alerts for daily or weekly intervals.
Do the leads include telephone numbers? Have they been scrubbed?
We provide whatever exists in the public court records. Phone numbers may or may not be included in the type of report you want. As an example, most pro se filed cases have a phone number for the debtor as part of the public record, whereas adversary proceedings typically have the filings attorney's phone number. If phone numbers are present in any given report, please be advised they have not been "scrubbed" against the Do Not Call list.