Creditor Database Pricing and Plans
The Most Comprehensive Business Bankruptcy Creditor Database
Receive a daily email of all the newly filed schedules in business bankruptcy cases
Receive a daily email of all the newly filed business bankruptcy secured and unsecured creditors in Excel that you can upload to your CRM of choice.
Customize your emails based on your cases of interest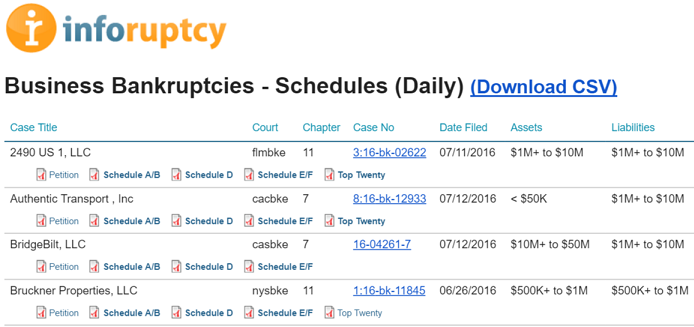 Identify creditors in business bankruptcy cases by combing through schedules D, E/F and Top Twenty creditors.

Not only do we track all the business bankruptcy petitions, but we are also the only service to track every business bankruptcy case until the initial schedule of assets and creditors is filed in each case.

SCHEDULE D
& E/F in EXCEL
We are digitizing the schedules D, E/F and Top Twenty filings. This will allow prospective claim traders and credit insurance agents time saving tools to dig through the court filings and pinpoint creditors of interest.

Conduct searches, refine your lists, and once you're satisfied with the results, set alerts with one click. New results matching your criteria in our database can be checked and emailed every day or week.
Choose Among a Monthly or Annual Plan to Signup
MONTHLY
Subscription auto-renews monthly until canceled. Cancel anytime by clicking "Cancel" in your account settings or email us at
[email protected]
Main Toolsets

Number of Users

Business Voluntary Petitions

Assets & Liabilities Data

NAICS Industry Code

Unlimited Saved Cases

Unlimited Saved Searches

Export Case Data

Creditor Database

Asset Database

Docket Alerts

Advanced Search

OCR Searching

Asset Schedules

Asset Alerts

Creditor Schedules

Creditor Alerts

Autopilot Case Monitoring

Additional Features

PACER 1-Click Access

PDFs in Inventory

Cloud Storage & Organization

Training

Support
Features
Firm (up to 5 people)
-
Free
Priority
Frequently Asked Questions
Do you offer a free trial?
No. In lieu of a free trial, you can
schedule a demo
and we will walk you through the site and answer all your questions.
Can I access specific case information like pleadings, schedules, etc.?
Yes. Our fully integrated solution allows 1-click access from the listing page to the bankruptcy case docket and menu, so you can access ALL case information for any bankruptcy case.
Is this available in my city?
Yes, it's available in every jurisdiction in the United States. To find which jurisdiction corresponds with your desired city, simply click on this link:
Court Locator
When will I get the leads?
You can create email alerts for daily or weekly intervals.
Do the leads include telephone numbers? Have they been scrubbed?
We provide whatever exists in the public court records. Phone numbers may or may not be included in the type of report you want. If phone numbers are present in any given report, please be advised they have not been "scrubbed" against the Do Not Call list.