Use Bankruptcy Data to Grow Your Business
Find an Untapped Source of Prospects
Receive a weekly CSV file to easily build your own database or simpy create mailing labels
Easily import leads into Microsoft Word to print labels and automate your mailings
Delivered straight to your inbox every week to simplify your direct marketing campaigns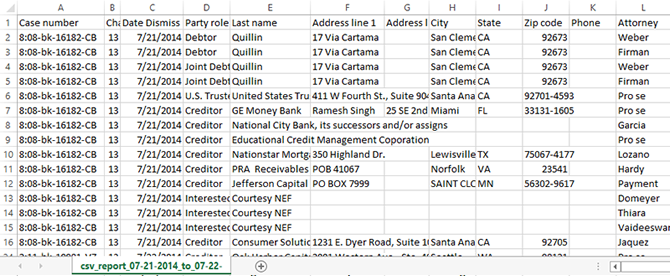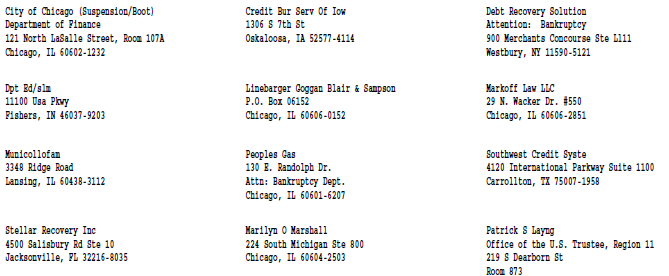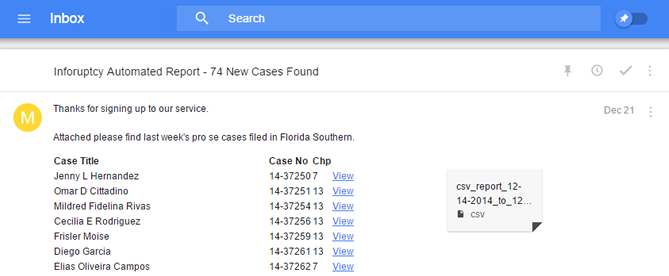 Why Should You Use Bankruptcy Leads?

Depending on your needs, bankruptcy leads are a great, untapped source of prospective new customers.

From law firm to real estate investor, our service generates prospects using industry specific criteria.

If you are not completely satisfied, you can cancel any time. There is no contract and no obligation.

Feel like you can benefit from bankruptcy leads but not sure how? Let us help you design a custom plan.
Pick the Right Plan For You
Frequently Asked Questions
Is this available in my city?
Yes, it's available in every jurisdiction in the United States. To find which jurisdiction corresponds with your desired city, simply click on this link:
Court Locator
When will I get the leads?
The leads will be emailed to you every Sunday.
If I want more than one jurisdiction, can I upgrade?
Yes, just contact us, and we will figure out a solution that fits your needs.
Any additional costs?
There are no additional costs. Simply sign up and start receiving a weekly list of leads every Sunday.
Do the leads include telephone numbers? Have they been scrubbed?
We provide whatever exists in the public court records. Phone numbers may or may not be included in the type of report you want. As an example, most pro se filed cases have a phone number for the debtor as part of the public record, whereas adversary proceedings typically have the filings attorney's phone number. If phone numbers are present in any given report, please be advised they have not been "scrubbed" against the Do Not Call list.
I'm an attorney. Can you please explain how I can use your leads?
Sure. If you are a consumer attorney our Pro Se Leads will be perfect for you. You can call or snail mail new pro se filers and see if they would like to retain you. If you are an attorney who does litigation, the list of adversary proceedings will provide you an opportunity to reach out to other attorneys or debtors who may find your expertise helpful. Our Pro Se leads are limited to three firms per jurisdiction. We will contact you after you sign up to determine if your jurisdiction is still available.
I'm a real estate agent / investor. Can you please explain how I can use your leads?
A chapter 13 bankruptcy case allows debtors who have fallen behind on their mortgage payments to reorganize their financial affairs by "making up" their mortgage arrears through a court approved repayment plan. If the debtors are able to continually make their plan payments, their Chapter 13 case proceeds forward. Otherwise the bankruptcy case gets dismissed. Once dismissed, there is no bankruptcy protection and the mortgage lender may proceed with foreclosure. In fact, many times a Chapter 13 case is filed to stall a foreclosure and gets dismissed within weeks after filing. Regardless of the exact circumstances, once a bankruptcy case is dismissed, homeowners may wish to sell, short sell, provide a deed in lieu or take any other action that would allow them the relief they are seeking.

We provide a list of Chapter 13 newly dismissed cases. You can contact the debtors or their attorney and explore win/win situations involving the sale or investment in real property.
I work for a car dealership. Can you please explain how I can use your leads?
Sure. We send you a weekly mailing list all of debtors who had their Chapter 7 or 13 case discharged. This wipes the slate clean for these borrowers, and thus makes them good candidates for bad credit loans. You'll find the debtors' address and attorneys' contact information.